Introduction - Institute of Genetics and Biotechnology
Institute of Genetics and Biotechnology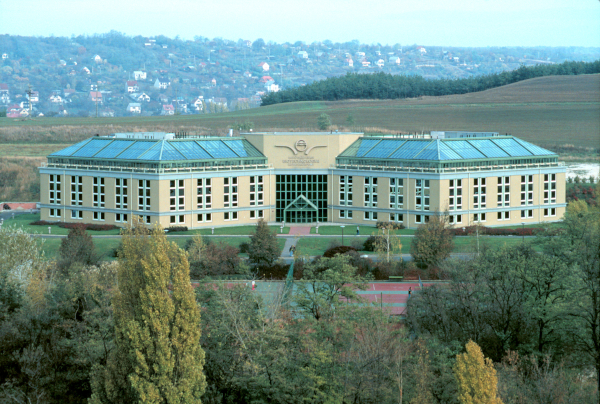 On February 1, 2021, the Institute of Genetics and Biotechnology (GBI) was established within the framework of the Hungarian University of Agriculture and Life Sciences. Our institute encompasses university units directly related to biotechnology on the Szent István, Buda and Georgikon Campuses, in addition to the Agricultural Biotechnology Research Center founded 30 years ago. Based on our structure and strategy, it can be felt that the content of the concept of biotechnology formulated by Károly Ereky has undergone significant changes in recent decades. We represent the entire repertoire of biotechnology, which stood on three "legs" (animal, plant, microbe) at the time of its formation, but in addition to classical and modern molecular biological methods, genomic research is gaining ground in this field.
Our institute focuses on research and development, innovation, as well as education and the utilization of results. Its task is to achieve results and provide services in the field of genetics and biotechnology, which, taking into account the needs of sustainable development, quality and consumer-oriented food production, contribute to increasing the competitiveness of Hungarian agriculture and provide the educational background for this both domestically and internationally. In addition, thanks to the multidisciplinary approach methods we use, we are also involved in numerous pharmaceutical and human biotechnological research.

In the structure of our institute, we do not separate teaching and research units. We consider it important that the new results that appear during the work of our researchers are included in the education. Therefore, our institute consists of four Departments based on strong educational and research foundations, within which there are 19 research and service groups. In addition to higher education, our institute also plays an active role in doctoral programs (PhD).

Education
The Institute of Genetics and Biotechnology is the gestor of the MSc in Agricultural Biotechnology and postgraduate specialist training course in Plant Genetics and Plant Breeding.
1) Agricultural biotechnology MSc programme
The Agriculural Biotechnology MSc programme fullfills the needs for the specialized higher education of the entire Hungarian agricultural sector on three campuses (Gödöllő, Budapest and Keszthely), with two specialisations (plant and animal biotechnology), with three forms of training (full-time, correspondence and dual trainings) and in two languages (Hungarian and English). The length of the programme is 2 years (4 semesters). One of the main features of the degree programme is that it is highly practice oriented. During the training, lectures and practicals are given by renowned representatives of agricultural biotechnology, thus enhancing the quality of education. In addition, students have the opportunity to prepare their thesis and to complete their four-week internship at the high-level Research Institutes. Another specific feature of the programme is that students have the possibility to join part-time courses abroad. Foreign students studying in English can apply for several scholarships: the Stipendium Hungaricum, the FAO, the Scholarship for Young Christian Peoples, the MATE International Scholarship Programme. Students of Hungarian nationality can also apply for admission to our English language programme with a scholarship or on a self-financed basis. Our scholarship programmes are also becoming ever more popular among Hungarian students from abroad. The share of foreign students in the total number of students is steadily increasing and currently stands at 41%. Plant Genetics and Plant Breeding - specialization of the Agricultural Biotechnology MSc - has been invited to participate in a Joint Master Erasmus MSc EmPLANT consortium involving six European countries. Following the successful application, this joint course started in the autumn semester of 2021. We are preparing an international double-degree MSc course with the University of Perugia. Both joint courses provide mobility opportunities for outgoing Hungarian, and incoming foreign students as well.
Over the last 10 years, 308 students have graduated from our programme. After graduation, our students can find employment either at their home country or abroad, typically in research institutes, universities, specialised domestic and multinational companies, or they can also continue their studies in doctoral programmes
2) postgraduate specialist training course in Plant Genetics and Plant Breeding
This popular postgraduate course at GBI starts only in correspondence course, in Hungarian language and self-financed form on the Szent István Campus in Gödöllő. The training period is 2 years (4 semesters).